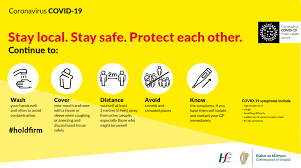 Dear parishioners and friends,
Today we start a 6 week period of Level 5 public health restrictions. I know this is going to be hard for many of you, but it is necessary if we are to suppress the spread of Covid-19 and hopefully look forward to the easing of restrictions in December. Please look out for and keep in touch with each other in the coming weeks.
By way of encouragement I would like to draw your attention to the fact that the third in our series of the Genesis Bible Reading Challenge has just been put up on our Parish YouTube Channel. This time the short 3 minute clip is by Olivia Carroll and she shares with us one incident in the book of Genesis which she finds particularly helpful and encouraging. I am very grateful to her for doing it and I know you will enjoy it.
The link to it and to all our recordings is here:
I will be putting up a recorded service again this weekend for Bible Sunday which will be available using the same link.
Take care and God bless,
Adrian

—

Archdeacon of Cork, Cloyne and Ross.
The Rectory,
Carrigaline Road,
Douglas,
Cork.