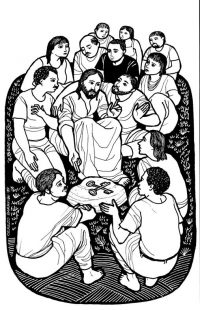 Dear parishioners and friends,
This week my '3 Minute Thought' is based, not on the Sunday readings but on a person – St Bartholomew. He is someone about whom the gospels tell us very little, yet in church we set a day aside to remember him. St Bartholomew's Day is on 24th August each year. I hope you enjoy my short reflection on him which will be available from 9am on Sunday on our parish YouTube channel at this link:
The services for this Sunday 23rd August are
8.30 Blackrock
10.00 Frankfield
11.15 Douglas
The service sheet, collect and readings are attached to this email.
Next Sunday (30th) there will be some changes to our service schedule. I am involved in two separate ordination services in the Diocese, one on Sunday morning in St Peter's Church in Bandon, when Patrick Culleton will be ordained deacon, and on Sunday afternoon, one of our own parishioners Sabrina Cooke, will be ordained deacon in St Fin Barre's Cathedral. Due to the current COVID restrictions, these services are by invitation only and are not open to others who might like to attend. However please do remember both candidates in your prayers this week.
So next Sunday there will be no service in Frankfield and there will be an 11.30 service rather than an 8.30 in Blackrock. So the schedule is as follows:
The services for Sunday 30th August
9.45 Passage
11.15 Douglas
11.30 Blackrock
This week we will include in our prayers, the pupils and staff of both St Michael's School in Blackrock and St Luke's School in Douglas, as they prepare to reopen for the new academic year. As someone who is involved in the management of both these schools, I have a little insight into all the hard work that the staff have been doing to make sure that the schools are ready for the pupils to return safely, despite the current difficulties. We wish them well.
Here is the Diocesan primary school prayer which is adapted for your use this week.
Father, at the start of another year we thank you for our parish schools.
We ask that you bless the children and the teachers,
and everyone who helps the schools to be the best that they can be.
Be with them, we pray, in the year ahead.
Guide them and watch over them
so that in everything that they do
they will show your love to one another,
bring your light to the world
and grow, day by day, into the knowledge that you give to them.
We ask this in the name of Jesus Christ our Lord. Amen.
Take care and God bless,
Adrian
—
Archdeacon of Cork, Cloyne and Ross.
The Rectory,
Carrigaline Road,
Douglas,
Cork.
T12 A2RC