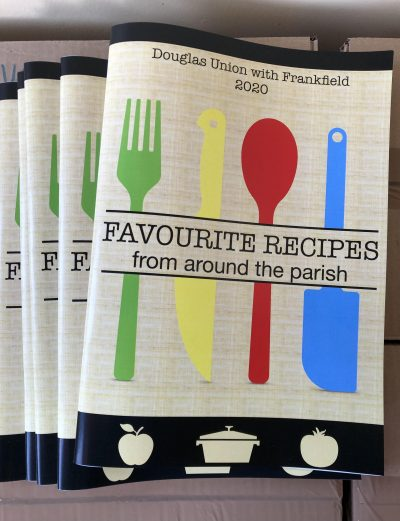 Dear parishioners and friends,
Tomorrow is the Sunday before Advent. For many years it was more popularly known as 'Stir up Sunday', the reason being that the prayer used on this day starts with the words 'Stir up' and goes on to emphasise 'the fruit of good works'. Generations of preachers used it as a launch pad for sermons on the importance of being prepared, illustrating it with references to Christmas cakes and plum puddings being made at this time of the year, well in advance of Christmas.
While I won't be talking about that in the service tomorrow, it seems to be an appropriate day to mention our Parish Cookbook which I collected from the printers a few days ago. As our churches are not open at present, the only way they can be easily distributed is by collecting them from the front porch at the Rectory. This can be done safely and in a socially distanced way. If you are in Douglas over this weekend, please call by the Rectory, press the doorbell and we can let you collect your copy or copies and put the cash in the box provided. Please have the cash with you. They are only €10 per copy and for this you get 60 pages full of interesting recipes and some fascinating information as to why each contributor sent their particular recipe in. All proceeds will go to the parish. We have plenty in stock so this will not be your only opportunity to buy one, but I have to say that already they are selling like hot cakes!
Tomorrow evening the recorded service for this Sunday
will be available on our Parish YouTube channel. Here is the link again for your convenience:
I hope you enjoy the service,
—

Archdeacon of Cork, Cloyne and Ross.
The Rectory,
Carrigaline Road,
Douglas,
Cork.
T12 A2RC